Z3 Storage Solutions


Our storage solutions will help you maximize your storage capacity and keep your Z3 organized. Back by popular demand, our DOOR POCKET ORGANIZER below.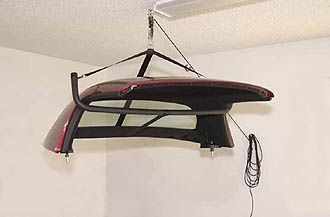 Hard Top Hoists for the Z3
WE HAVE 1 AVAILABLE --- MANUAL PULLEY OR BRAKE WINCH.
Using this hoist allows you to remove and install your hard top with just one person easily. Your top is cradled by a lightweight aerospace 6061 T6 aluminum tube surrounded by high-density foam that supports the hardtop securely from beneath, avoiding paint and weather stripping. The hardtop is balanced with a connected harness of nylon seat belt webbing that is sewn with heavy-duty polyester thread to the required length. Your hardtop can be suspended indefinitely.
Click " HERE" for a detailed description of each type of hoist, MANUAL PULLEY, BRAKE WINCH, or ELECTRIC WINCH or CLICK on the underlined item below for a description of that item.
To purchase, select the desired lifting mechanism (MANUAL PULLEY, BRAKE WINCH, or ELECTRIC WINCH) below.
The BRAKE WINCH and ELECTRIC WINCH are oversized shipments, $15.00 will be added to the normal shipping charges at checkout.