Accessories for the Honda S2000 by Roadster Solutions


Welcome to our Honda S2000 Store.
Roadster Solutions provides accessories for your S2000 designed to enhance your driving and ownership experience. Please browse through our catalog at eft and below and enjoy!
___________________________________________________________________

==> Check out our Honda S2000 Roof Covers <== available ONLY at Roadster Solutions
___________________________________________________________________
and, our Travel Boot Cover folds up small enough to take with you.
International Orders are Welcome.
CLICK here to see how it works
If you don't see what you are looking for give us a call.
833.912.1149 (US & Canada only) or 407.233.4609 (9-4 Mon-Fri, Eastern Time)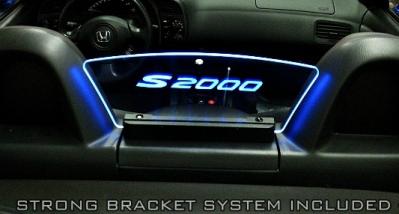 Honda S2000 Windrestrictor
$119.00
Honda S2000 Clear WindBlocker / WindScreen for the Honda S2000(1999-2009)
Here is an extremely easy to install clear acrylic windblocker that requires no cutting or drilling to install. The brackets attach with a 3M automotive adhesive, just peel and stick. Can be removed and reinstalled on another Honda S2000 and the adhesive will not leave any footprints behind. It installs in just 5 minutes and there are no tools required. There are no panels needed inside the roll hoops as the seat back acts as the windblocker. This WindBlocker consists of one center panel (.235" or 6mm thick) and two brackets that attach to the roll hoops using a two-sided removable automotive adhesive (if removed you may have to replace the adhesive).
This WindBlocker reduces those chilling drafts, quiets your cockpit significantly, and yet doesn't affect the view through the rear view mirror as the mesh design does. The center section slides out of the brackets for those times when you want to feel the wind on the back of your neck.
We offer three styles of Windscreens: CLEAR, ETCHED or ETCHED & ILLUMINATED. ILLUMINATION is available in the following colors: Red, Orange, Amber, Green, Blue, Purple, Pink , White or the New "Color Changing" kit (See Extreme Light Kit under Accessories below). NOTE: Illumination is ONLY AVAILABLE with the Crystal Clear plexi glass & an Etched Design. The following ETCHING DESIGNS are available:









Don't forget ACCESSORIES for your new WindRestrictor!
- Push button on/off switch: $4 (Turns the illumination on/off when desired.)
- 12 Volt Adapter Plug: $7 (Eliminates hardwiring to the headlights or running lights.)
- Battery Pack: $14 (Provides optional powering with a 9v battery, not included.)
- Dimmer Control Switch: $35 (Adjusts the illumination level.)
- WindRestrictor Polishing Kit: $35 (Includes the thickest microfiber towel available & 22 oz. of fast clean/shine spray to remove any dust & fingerprints for a flawless look!)
- EXTREME Light Kit: $129 (Optional COLOR CHANGING kit with remote) CLICK here to see the VIDEO...

- GLOW Module with patented fading Ghost Technology: $99 (Replaces the brake lamp module to modify the intensity of illumination while driving/braking. 6 different settings allow varied illumination while braking &/or fading out in a Ghost effect. Works great with the EXTREME "Color Changing" Light Kit. There is no need for the other accessories with this module. CLICK here for more Details...

or to see the VIDEO...

Base Price w/o Etching or Illumination $119 + S/H, We price match on this item, we will not be undersold.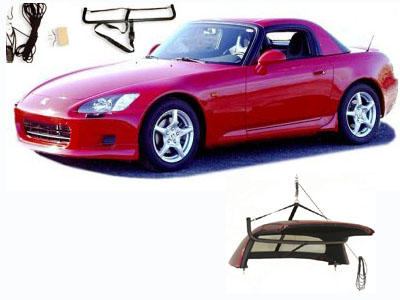 Hard Top Hoists for the S2000
This product is NO LONGER AVAILABLE.
The Honda s2000 employs a lightweight aerospace 6061 T6 "drawn" (this is a shaping process which retains structural integrity) aluminum tube with each end having a mandrel bend of a 4" radius. This tubing is used inside another high-density foam tube with a half-inch wall thickness. The assembly constitutes a very lightweight, sturdy and upholstery-friendly Support Cradle that supports the hardtop securely from beneath, avoiding paint and weather stripping. The hardtop is balanced with a connected harness of nylon seat belt webbing that is sewn with heavy-duty polyester thread to the required length. Your hardtop can be suspended indefinitely.
Click " HERE" for a detailed description of each type of hoist, MANUAL PULLEY, BRAKE WINCH, or ELECTRIC WINCH or CLICK on the underlined item below for a description of that item.
To purchase, select the desired lifting mechanism (MANUAL PULLEY, BRAKE WINCH, or ELECTRIC WINCH) below.
The BRAKE WINCH and ELECTRIC WINCH are oversized shipments, $15.00 will be added to the normal shipping charges at checkout.
Sorry - This item is NO LONGER AVAILABLE.