Accessories for the Mercedes Benz SL 2003-2011 R230 & 2012+ R231


Welcome to our Mercedes Benz SL (R230 & R231) Store.
You are now visiting RoadsterTime your Mercedes Benz accessories store.
_____________________________________________________________________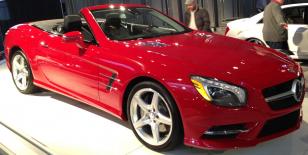 R231
2013 PHILADELPHIA AUTO SHOW
International Orders are Welcome.
CLICK here to see how it works
If you don't see what you are looking for give us a call.
8xx.xxx.xxxx (US & Canada only) or 321.290.7164 (9-4 Mon-Fri, Eastern Time)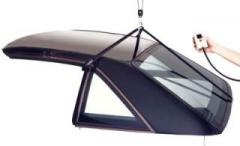 Hard Top Hoists for the Mercedes Benz SL - 1989-2002 (R129)
This product is NO LONGER AVAILABLE.
The Mercedes Benz SL hoist employs a Support Cradle made from a lightweight aerospace 6061 T6 "drawn" (this is a shaping process which retains structural integrity) aluminum tube with each end having a mandrel bend of a 3" radius. This tubing is used inside another high-density foam tube with a half-inch wall thickness.
The assembly constitutes a very lightweight, sturdy and upholstery-friendly Support Cradle that supports the hardtop securely from beneath, avoiding paint and weather stripping. The hardtop is balanced with a connected harness of nylon seat belt webbing that is sewn with heavy-duty polyester thread to the required length. Your hardtop can be suspended indefinitely.
Click " HERE" for a detailed description of each type of hoist, MANUAL PULLEY, BRAKE WINCH, or ELECTRIC WINCH or CLICK on the underlined item below for a description of that item.
To purchase, select the desired lifting mechanism (MANUAL PULLEY, BRAKE WINCH, or ELECTRIC WINCH) below.
The BRAKE WINCH and ELECTRIC WINCH are oversized shipments, $15.00 will be added to the normal shipping charges at checkout.
Sorry - This item is NO LONGER AVAILABLE.