Peake R5 OilService Inspection Reset Tool
When ordering the R5A/B Service Light Tool you will need to select either the Type A or Type B (Z3) connection.
First, open your hood and locate the connector, here is what the under-the-hood connector looks like. Unscrew the dust cover to reveal the connector (Type A or B).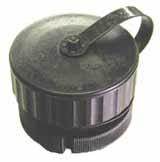 Type A is compatible with the 15 pin BMW connector used from 1982 to roughly 1987.

Type B is compatible with the 20 pin BMW connector used from roughly 1988 through 1999 (for Z3 through 2002). Your Z3 should look like this!