Accessories for the Mercedes Benz SLK 1998-2005 R170


Welcome to our Mercedes Benz SLK (R170) Store.
You are now visiting RoadsterTime your Mercedes Benz accessories store.
_____________________________________________________________________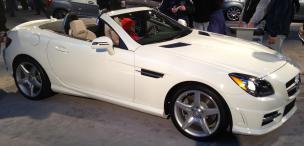 R172
2013 PHILADELPHIA AUTO SHOW

International Orders are Welcome.
CLICK here to see how it works
If you don't see what you are looking for give us a call.
8xx.xxx.xxxx (US & Canada only) or 321.290.7164 (9-4 Mon-Fri, Eastern Time)


Mercedes Benz SLK R170 (1997-2003) Windrestrictor
$229.00
Mercedes Benz SLK R170 Clear WindBlocker / WindScreen for the MB SLK R170 (1997-2003)
Here is an extremely easy to install clear acrylic windblocker that requires no cutting or drilling to install. The brackets attach with a 3M automotive adhesive, just peel and stick. Can be removed and reinstalled on another SLK R170 and the adhesive will not leave any footprints behind. It installs in just 5 minutes and there are no tools required. There are no panels needed inside the roll hoops as the seat back acts as the windblocker. This WindBlocker consists of one center panel (.235" or 6mm thick) and two brackets that attach to the roll hoops using a two-sided removable automotive adhesive (if removed you may have to replace the adhesive).
This WindBlocker reduces those chilling drafts, quiets your cockpit significantly, and yet doesn't affect the view through the rear view mirror as the mesh design does. The center section slides out of the brackets for those times when you want to feel the wind on the back of your neck.
We offer three styles of Windscreens: CLEAR, ETCHED or ETCHED & ILLUMINATED. Two options are available for the Clear or Etched plexi-glass: CRYSTAL CLEAR or SMOKED TINTED.
ILLUMINATION is available in the following colors: Red, Blue, White or the New "Color Changing" kit (See Extreme Light Kit under Accessories below). NOTE: Illumination is ONLY AVAILABLE with the Crystal Clear plexi glass & an Etched Design. The following ETCHING DESIGNS are available:


Don't forget ACCESSORIES for your new WindRestrictor!
- 12 Volt Adapter Plug: $7 (Eliminates hardwiring to the headlights or running lights.)
- Battery Pack: $14 (Provides optional powering with a 9v battery, not included.)
- EXTREME Light Kit: $129 (Optional COLOR CHANGING kit with remote) CLICK here to see the VIDEO...

Base Price w/o Etching or Illumination $259 + S/H, We price match on this item, we will not be undersold.