BMW Soft-Top Care Kit - NLA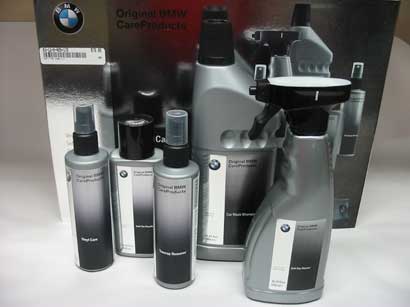 Original BWM Soft-Top Care Kit – Everything needed to keep your fabric top looking new!
Original BMW Vinyl Care – A deep care product with silicone for all synthetics in and around the vehicle, such as in the cockpit, door trim and bumpers. The care agent protects against brittling and graying, provides anti-static protection, restores a silky mat finish to the vehicle interior, Scented. Not to be used on windows or steering wheels, seats or pedals.
Soft-Top Cleaner - Original BWM Soft-Top Cleaner – For cleaning of all usage and environmental related soiling of light and dark soft-top fabrics. Please note: do not use in harsh sunlight. Any residue left on the paintwork should not be allowed to dry and must be immediately washed away. An after-treatment with Original BMW Soft-top Repellent is highly recommended.
Car Wash shampoo - Original BMW Car Wash Shampoo – Liquid cleanser for washing by hand. It removes stubborn soiling while conserving the was coating of painted services. Long lasting suds.
Soft-Top Repellent - Original BWM Soft-Top Repellent – For impregnating cleaned BMW convertible and roadster soft-tops.
Treesap Remover - Original BWM Treesap Remover – Cleaning product for dependable cleaning of stubborn tree sap or bird droppings from convertible soft-tops, paintwork, synthetics and glass.
Consider adding the Ultimate Cleaning Brush at Checkout.