BMW Z3 Trunk Mat - Carpeted
The fit of the trunk mat may vary due to model year and options, specifically a power top. There is a slight difference on the drivers side but we consider it to be acceptable. The Trunk Mat pictured below is the only trunk mat available from BMW for the Z3 built 7/1996 and later.
Seen here in a Z3 without a Power Top, perfect fit.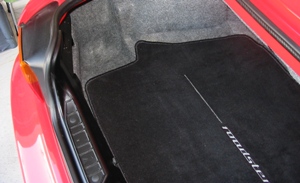 Seen here in s Z3 with a Power Top, acceptable fit.