Simeone Foundation Automotive Museum Store





Download our brochure by clicking on the image below.
Simeone Mobile Phone App is now available.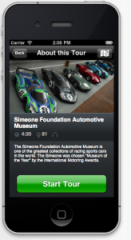 The Simeone Museum now has a mobile phone app that features over four hours of audio on the cars and exhibits in the collection. Dr. Simeone narrates the tour, which includes fascinating details about the history and the significance of each car.
The Simeone Museum mobile app includes 86 stops on the tour, each accompanied by a photo of the car or venue, and a brief text description. The audio length varies for each stop, but averages several minutes.
The mobile app is free and is available for either Android phones (Google Store) or iPhones (Apple Store). To find the app, just search for "Simeone Museum." Please let us know if you like it and if you see anything that can be improved. The app and content takes about 120mb of space. It should take about 3-5 minutes to download with a 4G network.
CLICK
HERE
to return to the Simeone Foundation Automotive Museum web site.